Rudner MacDonald LLP
Rudner MacDonald LLP
rudnermacdonald.com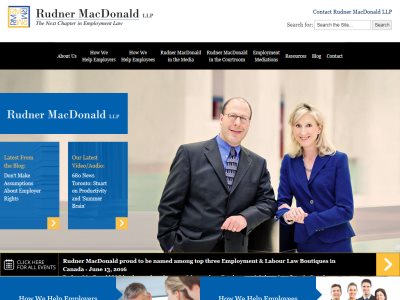 Rudner MacDonald LLP is an Employment law firm located in downtown Toronto, with a satellite location in Markham. Providing legal services for both employees and employers. Over 27 years of combined experience.
Areas of Practice (Employers):
Strategic HR.
Discipline and Dismissal.
Human Rights.
Conduct a Workplace Investigation.
Attendance Management.
Leaves of Absence.
HR Compliance.
Social Media & The Workplace.
Restrictive Covenants.
Areas of Practice (Employees):
Contract Review.
Termination of Employment.
Constructive Dismissal.
Workplace Harassment and Bullying.
Human Rights Issues.
Leaves of Absence.
Non-Competition Agreements.
Non-Solicitation Clauses.
Fiduciary Duties.
Social Media and the Workplace.
Areas of Law:
Categories:
Provinces/States:
#: 5345
NOTICE: E.&O.E.

See important legal disclaimer (www.canadalegal.com/legal.asp)
| | |
| --- | --- |
| ©1998-2020 Canada Legal .com | Jan 19, 2020 |