Laird A. Hiatt Law Corporation
Laird A. Hiatt Law Corporation
www.surreypilawyers.ca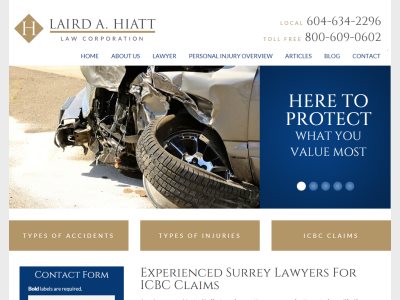 Laird A. Hiatt Law Corporation is a personal injury law firm in Surrey, British Columbia.

Practice Areas: Accidents, Injuries, ICBC Claims.

Types of Accidents: Car Accident, Rear-Ender Accident, Pedestrian Accident, Motorcycle Accident, Truck Accident, Texting/Distracted Driver, Head-On Collision/T-Bone Accident, Red Light Accident, Left Turn Accident, Speeding Accident, Drunk Driver Accident, Hit-And-Run Accident.

Types of Injuries: Head Injury and Concussion, Whiplash/Soft Tissue Injury, Back/Spinal Injury, Broken Bones/Fractures, Mild Traumatic Brain Injury, Shoulder/Neck/Knee/Joint Injury.
Areas of Law:
Categories:
Provinces/States:
#: 5250
NOTICE: E.&O.E.

See important legal disclaimer (www.canadalegal.com/legal.asp)
| | |
| --- | --- |
| ©1998-2023 Canada Legal .com | Dec 10, 2023 |